Administrator
Staff member
20 Year Member
I was introduced to David Gregorius by our mutual friend Ryan Tweedy. He is a Husker fan who took the time to write a book to educate the children of fellow Husker fans. I asked him to write a summary and it is posted below the photo of him and his children. I have already shared the book with my granddaughter and recommend it as a must buy for Husker fans that want to raise their children well.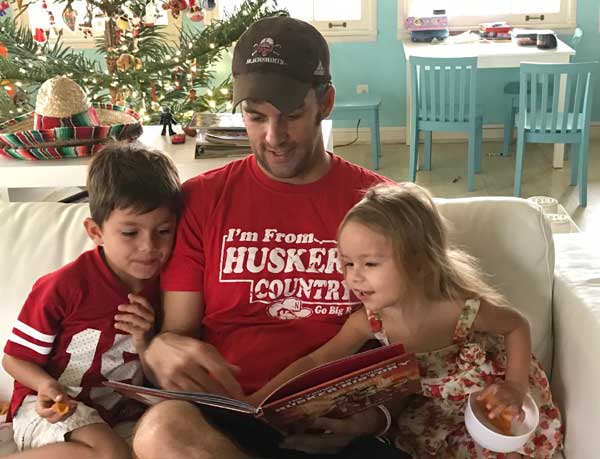 Dave Gregorius is a 6th-generation Nebraskan who grew up in Lincoln, and is a graduate of Lincoln Southeast High School. He's lived in every time zone in the Mainland USA, and now resides in Hawaii, where he is an ER doctor. He has four young children, and he wrote this book for them.
He says he was "inspired" by the difficult 2015 football season, felt a little frustrated about how he was going to make his children believe him that the Cornhuskers are truly college football blue bloods, and should be mentioned in the same breath as Alabama, Ohio State, Notre Dame and Michigan.
So one night, he wrote this book. The next day, he made a mini version of it with colored pencil sketches. After telling some fellow Nebraskan friends about it, he shared the text with them and was convinced to turn it into a real book. Editing, shining up the story a little, finding an illustrator, a publisher, the licensing, etc (getting all the pictures and text cleared by the University of Nebraska) took many months. The book now exists in a hardcover format at
YoungFansGuide.com
.
Order your copy today.