The first screening of the Through These Gates documentary film tour was held at the
OC Tavern
in San Clemente on Saturday, August 10th, 2013 and was sponsored by the Californians for Nebraska. Screenings were held at noon and 3 PM and a total of 129 people attended. The press was represented by the Orange County Register that sent out a photographer and a writer for an article that will appear later this week.
People in attendance included several of the film making crew; Irina Ibragimova, Chidinma Ezeani, Michelle St. Marie and Nate Holbrook. Read
their bios here
. Also in attendance were the
Comedy Couple
, Andy Harris and Rhoda Baldwin who are good friends of Ryan and Irina. Paul Koch, former strength coach and author of the new book
No Place Like Nebraska
was in attendance. Two people from Californians for Nebraska that appear in the film were also in attendance, Erik Van Fleet and Scott Mattes who both serve on the CFN BOD. A former Husker baseball player, Chuck Spiegel, also attended. Chuck is now the marketing director for
Wilson Creek Winery
in Temecula and they have graciously agreed to donate some of their famous Almond Champagne to go into the gift basket to be auctioned off at each of our showings.
Speaking of that, the Vince Ferragamo/Dave Humm Super Bowl quarterback Nebraska logo autographed football along with the Almond Champagne, a
Volume 1 copy
of Paul Koch's soon to be released book titled
No Place Like Nebraska
, some
Husker coffee
and a HuskerMax and Through These Gates logo hats went for $280 in the live auction.
The final tally came to $1,572 that was raised for the Californians for Nebraska scholarship fund giving us a good start on our goal of raising $100,000 for different organizations during the tour this football season.
The film itself was very well received and got a standing ovations from the 85 people attending the first showing.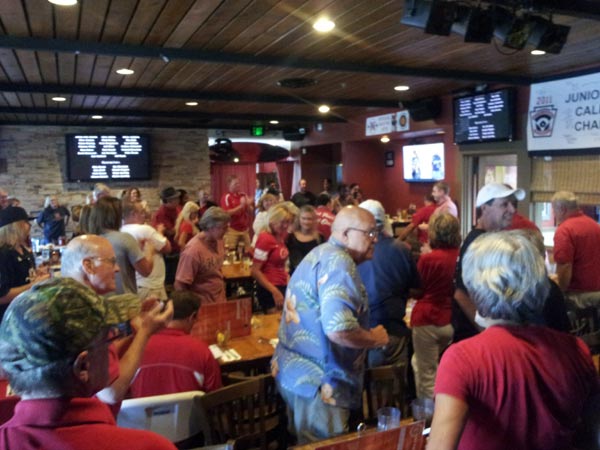 A special thank you to Randy York for his
complimentary article
on the day of the first screening giving the film a Siskel and Ebert two thumbs up type of review.
Our next stop is the first screening in Nebraska at the
Midwest Theater in Scottsbluff.
on Thursday, August 22nd followed by
Alliance
,
Denver
, and
North Platte
. The full schedule is
located here
. Ryan is leaving tomorrow for Nebraska and I will be flying into Scottsbluff on the 21st. We look forward to meeting many of you soon.
Go Big Red!!