Administrator
Staff member
15 Year Member
Kent Titze known to most Husker Fans as "The Real Life Herbie Husker" (a name given to him by the Jack and John morning show in their quest to find and interview him after seeing him on Husker-vison.) and Herbie Husker Titze to his facebook friends. Kent Just won the USA Today's local Arizona Best Fan Ever contest and has moved on to the national contest. Kent is the only Nebraska Fan selected in the 50 finalist, one for each state. He should win the contest because he represents the Best Fan base EVER. Voting began Oct. 24th and runs through Nov.11th when a panel of judges will select a winner from the top 25 receiving the most votes. One lucky voter will be selected to receive $1000.00. You may cast one vote per day to increase your chances to win. Click on
this link
to vote:
Link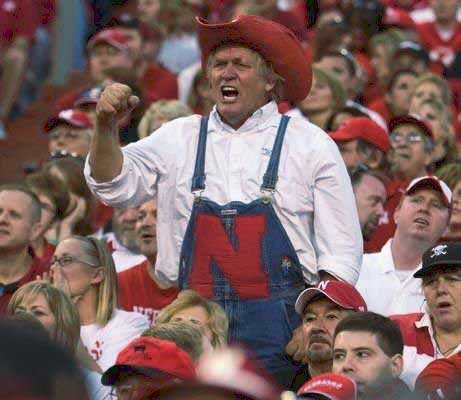 ​
Here is Kent's original submission:
My name is Kent Titze and I look like the original Nebraska Mascot "Herbie Husker" Herbie is a cartoon character adopted in the early seventies, people would remark "That guy looks like you". So I started to represent the nostalgic Herbie of yesteryear.
Because of a targeted plea to help find "The Real Life Herbie Husker" from KLIN radio station in Lincoln I am now known as the "Real Life Herbie Husker". When they retired Herbie in 2003 and adopted the present Herbie they found a large response that liked the "Old Herbie" and my popularity soared. Walking to the stadium takes me hours as fans stop me to take photos and give high-fives.
I visit Nebraska basketball, wrestling, volleyball and baseball games as well. I have been seen in Time Magazine Online, Pay per View and ABC Sports Reel and the front page of the sports section in the Omaha World Herald. I am in a documentary about Nebraska fans called "Through These Gates. I've made several appearances on the big screen at Home and away games.
I travel in an RV painted to match Nebraska team trailer. I ride a Big Red "Husker clad" bicycle with 36" tires and my office is a museum of Husker memorabilia. I proposed to my wife on the Nebraska scoreboard which read "Fran will you marry me and share half of your season tickets with me for the rest of our lives."
I can be seen in the Jim Carrey Movie "YES MAN". Aside from football, I makes occasional visits to group homes, hospitals, senior centers and non-profit organizations to promote enthusiasm for Big Red Football. I have made visits and arranged a meet and greet with the 2012 team for CEDARS, an organization in Lincoln that helps abused, neglected, and homeless children. I make regular visits to Lincoln's Madonna Center. Dressing like Herbie for over 25 years has brought joy to myself and countless others. With over two thousand Facebook fans I spread good will and sportsmanship. I am a true fan and win or lose I will always try to be their… Best Fan Ever.