Administrator
Staff member
20 Year Member
It is with great sadness that I have learned from his son-in-law that iconic Nebraska sportscaster Jack Payne passed away peacefully in his sleep last night. He was 99 years old. Jack was a fixture at the Nebraska Classic golf tournaments in Palm Springs every February and shared his broadcasting voice in the after dinner raffles every year. Here is a picture of Jack and myself with Scott Frost at the Johnny Rodgers Jet Award dinner in 2018. RIP Jack. We will miss your ever present smile and sense of humor.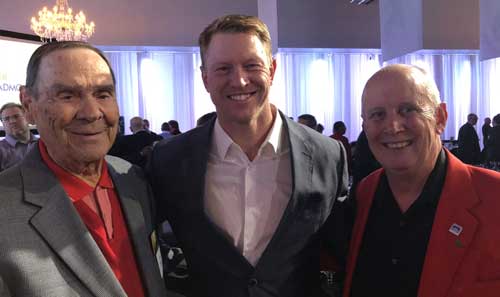 I think it's time to follow up on Kent Pavelka's recommendation to name a street after Jack in Omaha.
Here is the interview I did with Jack in 2015 where he talks about the many photos of his long career.
Nebraska Cornhusker football, basketball, baseball, and volleyball news, schedules, game results, archives, bulletin boards, statistics, tickets, watch site directory and much more
www.huskermax.com