This is it guys, the end of the competition. Just as the Iowa game is Nebraska's last chance to secure a bowl game, this is your last week to try for a perfect score. Or if you're one of the few that are at the top, your last chance to try and win it all. Does it surprise you to know that the leaders have averaged less than 6.2 correct over the course of our season? Well, this past week the average score here was 5.3 of 10. Marginally better than random chance, and not as good as my Poodle Pete could have done.
Another way to look it it, though, is that you only have one more week left to fail. If you haven't been the Dunce Picker of the Week yet, you have another opportunity. It could happen to you! It happened to
JoeBlueHouse
,
T-Husker
,
blackshirt
red
and
cthusker
, all of whom got 2 of 10 correct last week. I appreciate the effort, guys, makes my 3 correct look better.
And for the
Elite Picker of the Week
we have
Husker Larry
who made 9 correct, making a late charge for the overall title. His performance moved him up to 2nd overall, one pick behind Thotdoc and winnerwinner.

And now: the final week of competition. Its the last chance to create some separation and lay claim to the top spot. The picks for the week will follow. If the match-ups allow it, I may add more than 10 games this week. But there is no tie-breaker and there is no postseason. This is your opportunity. (Personal rant, it used to be you could link any .gif you wanted. But now so many have media protections that I can't figure out how to link them. So you get this. )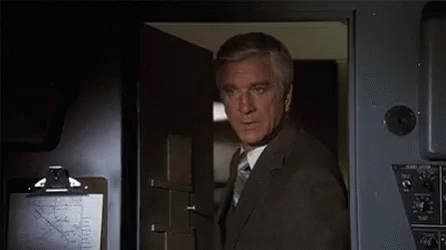 Click to view the GIF

tenor.com
| | | | | | | | | | | | | | | | |
| --- | --- | --- | --- | --- | --- | --- | --- | --- | --- | --- | --- | --- | --- | --- | --- |
| | Total | W1 | W2 | W3 | W4 | W5 | W6 | W7 | W8 | W9 | W10 | W11 | W12 | W13 | Season Total |
| ThotDoc | 74 | 8 | 6 | 3 | 8 | 5 | 6 | 4 | 6 | 8 | 7 | 5 | 8 | | 74 |
| winnerwinner | 74 | 7 | 5 | 4 | 8 | 6 | 5 | 5 | 6 | 7 | 9 | 5 | 7 | | 74 |
| HuskerLarry | 73 | 8 | 4 | 3 | 8 | 8 | 6 | 6 | 2 | 8 | 6 | 5 | 9 | | 73 |
| Stuck in the South | 72 | 6 | 6 | 4 | 7 | 6 | 6 | 4 | 5 | 8 | 8 | 4 | 8 | | 72 |
| djlhuskerfan | 71 | 5 | 6 | 5 | 8 | 7 | 6 | 5 | 7 | 6 | 6 | 6 | 4 | | 71 |
| swimn4ever | 71 | 10 | 5 | 2 | 7 | 6 | 8 | 7 | 4 | 5 | 5 | 4 | 8 | | 71 |
| SdRed | 70 | 7 | 6 | 3 | 9 | 5 | 6 | 4 | 5 | 6 | 6 | 6 | 7 | | 70 |
| CrabHusker | 69 | 8 | 3 | 3 | 6 | 5 | 8 | 6 | 5 | 8 | 7 | 2 | 8 | | 69 |
| TnHusker87 | 69 | 8 | 5 | 3 | 8 | 10 | 6 | 3 | 2 | 8 | 6 | 2 | 8 | | 69 |
| MHKHusker | 68 | 9 | 3 | 6 | 7 | 5 | 6 | 5 | 4 | 6 | 8 | 3 | 6 | | 68 |
| Redleg | 68 | 7 | 6 | 5 | 8 | 5 | 7 | 4 | 4 | 8 | 6 | 4 | 4 | | 68 |
| 68hskr | 67 | 8 | 3 | 5 | 9 | 3 | 5 | 6 | 7 | 5 | 7 | 4 | 5 | | 67 |
| Ackos | 67 | 8 | 7 | 4 | 7 | 5 | 6 | 6 | 4 | 6 | 6 | 5 | 3 | | 67 |
| dkref11 | 67 | 8 | 5 | 4 | 9 | 6 | 7 | 4 | 3 | 7 | 6 | 4 | 4 | | 67 |
| BGRed | 66 | 8 | 5 | 4 | 9 | 6 | 7 | 5 | 3 | 6 | 5 | 3 | 5 | | 66 |
| Nostradumbass | 66 | 7 | 3 | 3 | 7 | 6 | 6 | 6 | 6 | 8 | 7 | 3 | 4 | | 66 |
| skerinks | 66 | 8 | 4 | 3 | 5 | 5 | 5 | 5 | 7 | 8 | 6 | 5 | 5 | | 66 |
| CrnhskrBob | 65 | 8 | 5 | 3 | 8 | 4 | 4 | 6 | 5 | 6 | 6 | 4 | 6 | | 65 |
| hskrdavey | 65 | 6 | 7 | 3 | 7 | 5 | 5 | 5 | 6 | 7 | 7 | 4 | 3 | | 65 |
| Real Red in IN | 65 | 7 | 4 | 1 | 8 | 5 | 7 | 4 | 4 | 6 | 7 | 4 | 8 | | 65 |
| Swanson209 | 64 | 9 | | 4 | 9 | 6 | 5 | 5 | 6 | 5 | 6 | 4 | 5 | | 64 |
| DrNUke | 63 | 7 | 3 | 3 | 7 | 4 | 8 | 5 | 5 | 6 | 4 | 5 | 6 | | 63 |
| HskrChuck | 62 | 9 | 4 | 0 | 8 | 5 | 3 | 6 | 6 | 6 | 5 | 5 | 5 | | 62 |
| HuskerSoup | 62 | 7 | 3 | 3 | 7 | 6 | 6 | 3 | 4 | 7 | 6 | 3 | 7 | | 62 |
| wcbsas | 62 | 8 | 4 | 5 | 6 | 6 | 5 | 4 | 8 | 5 | 4 | 3 | 4 | | 62 |
| WeNeedMorePower | 62 | 8 | 4 | 4 | 7 | 4 | 6 | 4 | 3 | 7 | 6 | 3 | 6 | | 62 |
| Alaskan | 61 | 7 | 5 | 3 | 8 | 5 | 7 | 4 | 4 | 6 | 7 | 5 | | | 61 |
| blackshirt red | 61 | 7 | 6 | 2 | 9 | 6 | 5 | 3 | 4 | 5 | 8 | 4 | 2 | | 61 |
| GoBigRev | 61 | 6 | 5 | 2 | 7 | 6 | 4 | 4 | 4 | 6 | 4 | 6 | 7 | | 61 |
| T-Husker | 61 | 9 | 5 | 3 | 8 | 6 | 4 | 4 | 4 | 5 | 7 | 4 | 2 | | 61 |
| Wonderboy | 61 | 7 | 6 | 2 | 9 | 3 | 4 | 6 | 4 | 3 | 5 | 5 | 7 | | 61 |
| Florida Husker | 60 | 8 | 5 | 3 | 7 | 5 | 4 | 3 | 4 | 6 | 5 | 5 | 5 | | 60 |
| MNHUSKER73 | 60 | 7 | | 4 | 8 | 3 | 4 | 5 | 7 | 6 | 8 | 3 | 5 | | 60 |
| Cornhuskers7 | 59 | 7 | 2 | 4 | 4 | 5 | 6 | 5 | 6 | 8 | 7 | 1 | 4 | | 59 |
| Cvillehusker | 59 | 9 | 4 | 3 | 8 | 4 | 4 | 5 | 5 | 5 | 3 | 3 | 6 | | 59 |
| The_Real_PJ | 59 | 8 | 3 | 3 | 7 | 7 | 3 | 5 | 6 | 7 | 5 | 5 | | | 59 |
| All 'N' 011808 | 58 | 6 | 4 | 4 | 9 | | 3 | 4 | 6 | 4 | 8 | 4 | 6 | | 58 |
| BigRed Mosquito | 58 | 9 | 3 | 3 | 8 | 5 | | 8 | 6 | 7 | 5 | 4 | | | 58 |
| Red Reign | 58 | 9 | 4 | 2 | 4 | 8 | 5 | 3 | 3 | 5 | 7 | 3 | 5 | | 58 |
| WIHUSKER | 58 | 7 | 4 | 5 | 6 | 5 | 5 | 5 | | 5 | 6 | 6 | 4 | | 58 |
| Husker USMC | 56 | 6 | 2 | 4 | 4 | 5 | 5 | 6 | 3 | 4 | 6 | 5 | 6 | | 56 |
| mjohnson | 56 | 7 | 3 | 3 | 8 | | 4 | 4 | 2 | 8 | 8 | 2 | 7 | | 56 |
| HuskerInKCLand | 55 | 8 | 3 | 3 | 8 | 4 | 4 | 2 | 4 | 5 | 5 | 4 | 5 | | 55 |
| Cornjob | 54 | 5 | 4 | 4 | 6 | 6 | 4 | 4 | 2 | 3 | 7 | 6 | 3 | | 54 |
| cthusker | 53 | 7 | 5 | 5 | 7 | 4 | 4 | | 5 | 6 | 4 | 4 | 2 | | 53 |
| HskrRedTiLlmDead | 53 | | 6 | 3 | 5 | 3 | 5 | 3 | 5 | 7 | 4 | 6 | 6 | | 53 |
| all4bigred | 52 | | 5 | 2 | 8 | 7 | 5 | 4 | 5 | | 7 | 3 | 6 | | 52 |
| bentNblue | 52 | 6 | 4 | 3 | 5 | 5 | 5 | 6 | 5 | 3 | 4 | 3 | 3 | | 52 |
| Plague of Crickets | 52 | | 4 | 3 | 8 | 4 | 3 | 7 | 3 | 6 | 5 | 2 | 7 | | 52 |
| HUSKER HOT SAUCE | 49 | 7 | 6 | 1 | 7 | 2 | 6 | 3 | 4 | 8 | | | 5 | | 49 |
| Skers4life | 49 | 8 | 4 | | | 4 | 7 | 3 | 7 | | 4 | 5 | 7 | | 49 |
| Sgt Schultz | 48 | 7 | 3 | 2 | 5 | | 6 | 6 | | 6 | 6 | | 7 | | 48 |
| Sodak Dick | 48 | 7 | 4 | 4 | 7 | 5 | | 3 | | 8 | 6 | 4 | | | 48 |
| nems | 46 | 8 | 6 | 4 | 8 | 7 | 6 | 4 | 3 | | | | | | 46 |
| CombatTargeteer | 45 | | | 4 | 5 | 5 | 2 | 6 | 3 | 6 | 5 | 5 | 4 | | 45 |
| Floydhusker | 42 | 7 | | | 5 | 8 | 4 | 6 | 3 | 4 | 5 | | | | 42 |
| EdgeCrusher | 41 | 6 | | | | 4 | 3 | 5 | 3 | 4 | 7 | 4 | 5 | | 41 |
| Bugeaters | 36 | 6 | 5 | | | | 6 | 3 | 3 | 8 | 5 | | | | 36 |
| JoeBlueHouse | 36 | | | | 4 | 5 | 1 | 3 | 4 | 6 | 6 | 5 | 2 | | 36 |
| HuskerJAG | 35 | 8 | | | | | 6 | | 4 | 5 | 5 | 2 | 5 | | 35 |
| HuskerWeatherman | 33 | 9 | 5 | 4 | 6 | 7 | 2 | | | | | | | | 33 |
| Corned Beef | 29 | 9 | 5 | | 4 | 4 | 4 | 3 | | | | | | | 29 |
| Hooked on Huskers | 26 | 10 | 5 | 3 | 8 | | | | | | | | | | 26 |
| CO4NU | 19 | | | 4 | | | | | 6 | | 5 | 4 | | | 19 |
| 36Blast | 10 | 7 | 3 | | | | | | | | | | | | 10 |
| huskerdaze | 10 | | | 3 | 7 | | | | | | | | | | 10 |
| Kaleb Henry | 10 | 8 | | 2 | | | | | | | | | | | 10 |
| HayBroncSker | 9 | 8 | 1 | | | | | | | | | | | | 9 |
| Hville | 8 | 8 | | | | | | | | | | | | | 8 |
| sdhusker | 8 | 8 | | | | | | | | | | | | | 8 |
| Tenafly Tiger | 8 | 8 | | | | | | | | | | | | | 8 |
| El Bondo | 7 | 7 | | | | | | | | | | | | | 7 |
| Muskrat | 7 | 7 | | | | | | | | | | | | | 7 |
| RedRum | 7 | 7 | | | | | | | | | | | | | 7 |
| Underdog | 7 | 7 | | | | | | | | | | | | | 7 |
| 4qtrhsker | 6 | 6 | | | | | | | | | | | | | 6 |
| dnyelator | 6 | | | | | | | 6 | | | | | | | 6 |
| Pops | 3 | | 3 | | | | | | | | | | | | 3 |
| | | | | | | | | | | | | | | | 0 |
| Average | 48.701 | 7.492754 | 4.396552 | 3.288136 | 7.066667 | 5.280702 | 5.083333 | 4.633333 | 4.551724 | 6.105263 | 5.949153 | 4.053571 | 5.396226 | | 63.29741371 |
Last edited: